Good luck with all of your finals!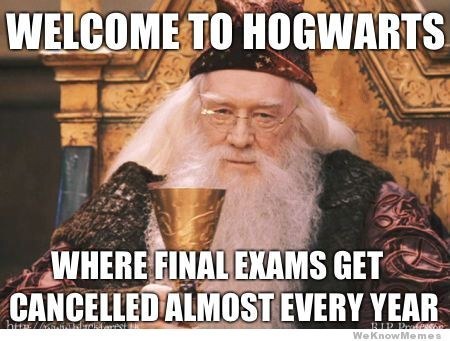 (if only…)
---
ANNOUNCEMENTS:
Fall 2017 Courses
Take a look at the below attachment to start planning your course schedule for next year. Please note this course list is from Fall 2016, so it is not certain that all of these courses will be held in Fall 2017.
Course List_2016-2017.pdf
---
EVENTS
Annie Leonard of Greenpeace and the Story of Stuff is coming to NYC!
Date/time: Wed, May 3, 7:00 pm ET
Location: 134 w 29th St. #606.
That's right folks, Annie Leonard herself will be visiting the New York City office this Wednesday, May 3rd. This is a rare and exciting opportunity to hear about Greenpeace's work across the nation under the new climate-denying administration. Please join us on Wednesday at 7pm to welcome her to New York, to mingle a bit, and to ask questions about Greenpeace, activism, and more ways we can build the resistance.
We're located in Manhattan at 134 w 29th St. #606. Between 6th and 7th Ave. The closest trains are the 1 at 28th St. and the R or W at 28th St.
Smart Cities NYC '17
Dates: May 3 – 6
Location: Brooklyn Navy Yard
Smart Cities NYC '17: Powered by People takes place May 3-6 (smartcitiesnyc.com) and is the first-of-its-kind conference + expo to focus on the importance of citizen participation in urban and civic innovation.
This event will bring together thought leaders from around the world to talk about innovation, infrastructure, and inclusion with a focus on mobility, health, energy, finance, and much much more. Richard Kauffman will be speaking, as well as reps from Tesla Energy, Bloc Power, and the New York Power Authority!
The groundbreaking SCNYC17 conference and expo will be hosted at the historic Brooklyn Navy Yard, with panel discussions side events and more than 25 educational workshops with Stanford, Harvard, MIT, and Columbia.
Our sponsors represent some of the best in the business with Microsoft leading the charge. We also have BMW/Mini, the NYCEDC, Verizon, and many more on hand to demonstrate their vision for a smarter, safer, more inclusive future.
For ECO members, we have a special price of $100, down from $1200! Use promo code SCNYC100.
Annual Energy & Environment Spring Fling
Date/time: Saturday, May 13, 8:00 – 10:00 pm ET
Location: Faculty House
Enjoy an open bar and healthy summer food! Wear your best spring fling cocktail attire. The event is an opportunity just for the EE Concentration to reward all your hard work, celebrate our graduating friends, and toast our many achievements over the year. There is no cost to EE students. Please take note that space is limited, however, and to keep your slot, please register SOON.
Significant others are also cordially invited to attend and purchase an additional ticket at $50 per person (First come, first serve for the limited number of slots available.) Please e-mail kim.jeewon@columbia.edu to check availability for your partner.
Please register on OrgSync.
Reporting on the SDGs Webinar: what do investors need to know?
Date/time: May 30, 10:00 – 11:00 Am ET
Location: Webinar
This webinar will explore how companies can demonstrate to investors their commitments to the UN Sustainable Development Goals – and highlight what investors need to know.
Investor demands for corporate transparency on the SDGs are on the rise. But while there is growing interest, there is little understanding of how to invest in these themes – and how companies can attract these investments.
What do investors really need to know, and how can companies effectively communicate this?
Our expert panel will give their perspective on this topical issue and take questions from the audience. Hear from:
Heike Reichelt, Head of Investor Relations and New Products, The World Bank
Martina Macpherson, Head of Sustainability Indices, S&P Dow Jones Indices
Nando van Kleeff, Senior Advisor Responsible Investment & Governance, MN
Geoffrey Burger, Owner & Portfolio Manager, Culture Capital
Ariel Meyerstein, Senior VP Corporate Sustainability, Citi
(Moderator) Carolien Gadella van-Wersch, Director Business Development, eRevalue
---
JOBS/INTERNSHIPS:
SUMMER 2017 – SOCIAL MEDIA ASSISTANT, CGEP
The Center on Global Energy Policy at Columbia SIPA is looking for a fall Social Media Assistant to help generate visibility and heighten awareness of the Center, its research, events and experts. Proven experience with  professionally managing multiple social media channels [Twitter, Facebook, LinkedIn, etc] for organizations or companies is preferred.  Familiarity with the energy-related topics covered by the Center is preferred.
Qualifications—we are seeking students who have experience:
Managing / running social media accounts such as Twitter, Facebook, LinkedIn and developing compelling and interactive campaigns.
Growing a digital and social media audience.
Using email newsletter platforms (e.g., Mailchimp).
Promoting content generated through multiple mediums [print, audio, video, etc].
Editing/updating website content and media (e.g., photos, video) through a basic content management system platform (e.g., Drupal)
Additionally, candidates should have:
Excellent communication, organization and interpersonal skills, including strong attention to detail and ability to work efficiently and effectively with a team in a very fast-paced environment.
General marketing / outreach experience and HTML skills are helpful but not required.
The ability to work well in a team while being self-motived.
Familiarity with energy- and climate-related topics.
Time & Compensation
We prefer candidates who can work at least 20 hours/week but will consider those who cannot. Compensation starts at $12/hr and is commensurate with experience.
Application Deadlines
The deadline for the Summer 2017 term is April 30, 2017. However, the position may be filled on a rolling basis so early applications are encouraged. Columbia University is an Equal Opportunity/Affirmative Action employer; applications from women and underrepresented minorities are strongly encouraged.
Please email energypolicy@columbia.edu with any questions.
More information can be found here.
Senior Policy Advisor, Community Transformation Team
The Mayor's Office of Sustainability (MOS) is responsible for developing policies and programs to enhance the near-term and long-term sustainability of the City of New York, as outlined in the City's sustainability plan: One New York: The Plan for a Strong and Just City (OneNYC). MOS coordinates with all other City agencies to develop, implement, and track the progress of OneNYC and other issues of infrastructure and the environment which cut across multiple City agencies. In addition, MOS promotes the integration of sustainability goals and practices into the work of City agencies and the lives of New Yorkers.
Job Purpose
The Senior Policy Advisor will work closely with other member of the Community Transformation team on a variety of projects related to MOS's strategic priorities and sustainability issues for the City. Teamwork, consensus building, professionalism, strong communication and analytical skills are essential components of this role. Responsibilities will be commensurate with experience.
More information can be found here.
Senior Project Manager, Edison International
The Senior Project Manager will report to the Director of Edison International (EIX) Strategic Planning and will actively support a wide spectrum of strategic efforts across the company, with a focus on internal consulting engagements, strategic guidance to business leads, independent research and analysis of complex business issues, and contributing to the development of EIX positions through insights, outlooks, and content pieces. The successful candidate will provide thought partnership, creative solutions, and innovative problem solving to the EIX strategic planning team and relevant business units.
More information can be found here.
Strategic Planning Analyst, Edison International
The Financial Analyst position is a key role in the Strategic Planning organization for Edison International (EIX) and will report to the Director of Strategic Planning and Initiatives. The position will involve conducting research and analysis on key industries, markets, company and trends, and providing quantitative analytic support on projects to inform and shape the development of corporate strategies. A significant amount of this work will be in support of a newly implemented company-wide strategic planning process.
Please find more information here.
—
Lindsay Cherry (lmc2248@columbia.edu)
SIPA Environmental Coalition (ECO) Communications Director
—
To stay on top of all our news and events, don't forget to check out ECO-SIPA.org and follow ECO on Facebook. Click here to join our listserve or forward to a friend.