Hi everyone–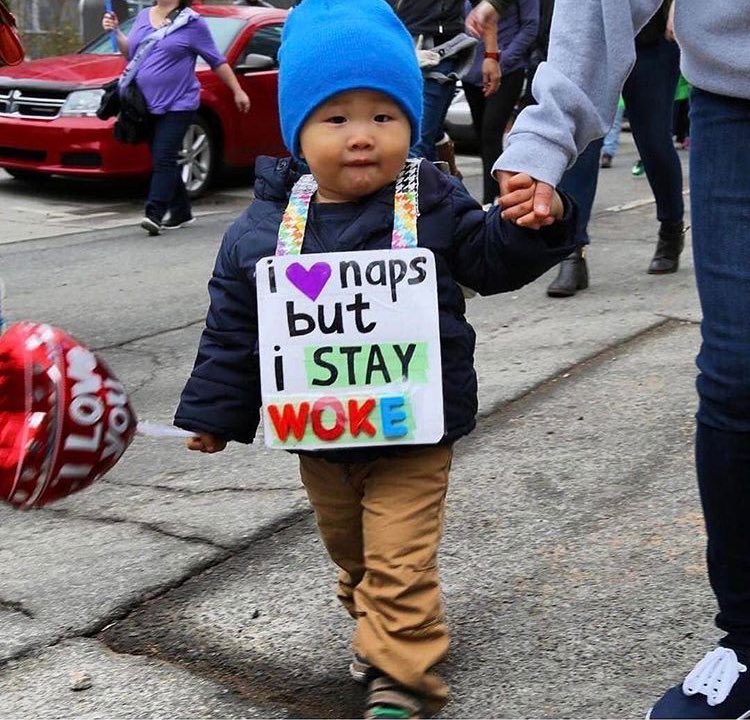 I hope you all had a great weekend and for those of you who joined the Women's March, I hope you found it uplifting, empowering, and enjoyed the "woke" sign-game (for reference, please see adorable baby above carrying amazing sign).
EVENTS:
Climate Change and the Future of US Climate Policy
Time: Tuesday, January 24, 2017, 11:30am – 1pm
Location: 72 5th Avenue, Room 713, New York, NY
Bring your lunch to this roundtable discussion on climate impacts on the national power grid and the future of the US environmental policy in the Trump administration. This event is hosted by The New School's Tishman Environment and Design Center.
The Tishman Environment and Design Center fosters the integration of bold design, policy, and social justice approaches to environmental issues in order to advance just and sustainable outcomes in collaboration with communities. More information about the event can be found here.
Panel: Civic and Academic Responsibilities towards the Environment
Time: Thursday, January 26, 2017, 12pm – 2:30pm
Location: Wolff Conference Room, 6 E 16th St, New York, NY
Hosted by the New School's Oikos, a student group that focuses on sustainability and economics. The panelists will explore further questions, such as: what is the responsibility/is there a responsibility of economists to the environment? Is conservation a "leftist" issue? What is important when it comes to the environment; activism or theory? How are they related? How do we bridge this divide and bring theory into practice? Why is economy and ecology NOT a trade off? Does climate change mitigation offer economic surplus?
More information about the event can be found here.
Resist Trump! Volunteer Meeting
Time: Tuesday, January 24, 6pm – 8pm
Location: NY Society of Ethical Culture, 2 West 64th Street, New York, NY
It's critical that we join together to resist Trump's extreme anti-environmental agenda and fight for clean water, climate justice, and safe food. Learn about and get involved with Food & Water Watch's plans to protect our most vital resources.
For more info, or to RSVP, contact Greta Zarro: 347-774-4597; gzarro@fwwatch.org. Facebook page with more information can be found here.
Columbia University's Energy Symposium
Time: Friday, February 3, 8am – 6pm
Location: Faculty House
The Columbia Energy Symposium is the largest student-run energy event in New York City, bringing together more than 300 energy professionals, students, faculty, leaders, and executives representing industry, government, and society, to explore and advance our insights into today's challenging energy questions. Key topics for discussion will include how new technologies, business models, and innovative financing strategies are disrupting the traditional energy system from the entrance of battery storage, to the rise of LNG trading, to the evolving utility business models.
There is also a Case Competition on Thursday, February 2, which allows teams of 3 to 5 graduate students to present creative and innovative solutions for the main challenges facing the energy and environment sectors. This year, the Case Competition is sponsored and provided by Booz Allen Hamilton.
More information about the event can be found here, and you can register for the event here.
JOB/INTERNSHIP OPPORTUNITIES:
NYSERDA, RetrofitNY initiative
Two positions are available at NYSERDA with their RetrofitNY Initiative. RetrofitNY is a cornerstone initiative of NYSERDA's multifamily programs.  Based upon a successful model in the Netherlands called Energiesprong, RetrofitNY aims to revolutionize the building retrofit industry in New York starting with the affordable housing sector.  By adapting the Energiesprong process to conditions on the ground here, RetrofitNY will induce the architecture, engineering and construction industry to develop innovative technical solutions capable of transforming NY's existing multifamily residential building stock into buildings that meet (or approach) Passive House or even net zero levels of energy performance.  The ultimate goal of the RetrofitNY initiative is to develop a self-sufficient, private sector-based market for the implementation, at scale, of deep energy retrofit solutions that will greatly improve energy performance, health and comfort within existing affordable housing buildings, providing building owners and regulators with new strategies to preserve affordability and improve their buildings while combating climate change.
RetrofitNY Housing Market Development Lead, Multifamily Residential – New York City Office. More information found here.
RetrofitNY Project Manager, Multifamily Residential – New York City Office. More information found here.
Sustainable Energy Internship, GreenMax Capital Advisors (ID #66729)
GreenMax is one of the leading international policy and financial advisory firms focused entirely on the clean energy sector. They advise governments, international financial institutions, investors and project developers on strategies to increase implementation of renewable energy and energy efficiency. They have completed assignments in more than 80 countries around the world. Today their main geographic focus is on emerging markets in Sub-Saharan Africa, Latin America, Eastern Europe and Turkey.
More information and instructions on how to apply can be found on SipaLink.
Women In Energy (WIE) Program Assistant, Columbia SIPA Center on Global Energy Policy (ID #66450)
The Program Assistant will have to work under close supervision administering office procedures in for Center on Global Energy Policy's Women In Energy program; assist in special projects (correspondence and publicity); and assist with set up and break down of events.
More information and instructions on how to apply can be found on SipaLink.
Senior Campaign Research & Policy Officer (Part-time), Wildlife Conservation Fund (ID #66494)
Position objectives include strengthening WCS's movement making strategy and campaign engagement by providing foundational issue-based research, analysis, synthesis, writing and tracking to:
Identify and define policy engagement opportunities
Educate and influence governments, corporations, and consumers to take action
Enhance WCS's profile as a leading conservation organization
More information and instructions on how to apply can be found on SipaLink.
ENVIRONMENTAL NEWS:
—
Lindsay Cherry (lmc2248@columbia.edu)
SIPA Environmental Coalition (ECO) Communications Director
—
To stay on top of all our news and events, don't forget to check out ECO-SIPA.org and follow ECO on Facebook and Twitter. Click here to join our listserve or forward to a friend.